Trumbull County Jail Project
Trumbull County Jail Project:
By the Numbers
Installation of more than 250,000 feet of Cable
More than 300 Cameras
40 Flat Screen Televisions
400+ Intercoms
50 Access Control Doors
More than 300 Paging Speakers
An Interesting Story of the First Trumbull County Jail
When Trumbull County was first organized in 1800, a committee was appointed to find a proper place for a "temporary jail."  On August 27, 1800, the committee reported that the room in the southwest corner of the home of Ephriam Quinby (at Main and South Street) was acceptable. The court of Quarter Sessions approved the choice.
In March 1801, a plan for a jail structure was adopted, calling for a building 30′ x 22′ with two rooms – one for criminals and one for debtors.  The oak log walls were to be 15′ thick with a hewn oak floor, timbers of the same thickness, and a roof of long oak shingles.
That jail was destroyed by fire in 1804.
How does one spend 18 months in a jail without ever breaking the law? When you're part of the Harrington Electric Co. technology team and you're charged with upgrading the jail's surveillance, security and communications systems, it's a term that you'll happily accept.
Built in 1997, the 25-year-old Trumbull County Jail was badly in need of a technology upgrade to address faulty locks, aging cameras and a soon-to-be outdated computer system.
Harrington's Technology Division answered the call. Led by division vice president, Bob Laurenti, the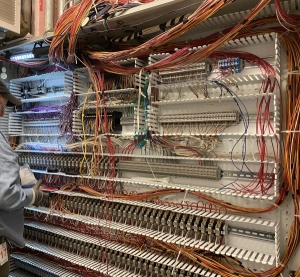 voice/data/video division provides specialized engineering, design, and installation of structured cabling systems to customers in a variety of industry sectors, with services that include fire alarm, security, audio/visual and telecommunication systems.
Over a nearly two-year project period, Laurenti and his team designed and installed:
A new fiber back bone system at the jail;
A new security access control and a CCTV-IP System;
A new clock system;
A new paging system; and
A new intercom system, reaching each of the jail's cells.
But the extensive work was only part of the story, according to Laurenti. "We started the project in 2019 which was the onset of the COVID-19 pandemic," he stated. "The team had to conform to a host of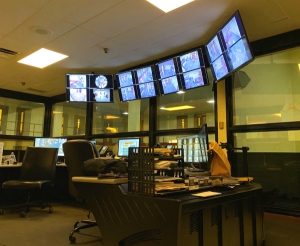 pandemic guidelines in an environment with more than 250 inmates. It really forced us to be flexible under extreme conditions. But we came through that 18 months with flying colors."
The project resulted in providing the 180,000-square-foot facility with completely updated equipment and systems, enabling the staff to operate more efficiently while enhancing the overall safety of jail personnel.
Harrington Electric's work at the Trumbull County Jail and a previous large-scale project at the Grafton Correctional Facility has helped us secure a similar contract at the Cleveland Juvenile Detention Center.  Now that's a rap sheet we're very proud of!