Harrington Electric Co. has been an integral
part of the fabric of Cleveland, Ohio since
1907
Here's how we've grown over the past century.
1907
Harrington Electric Co. is established by William Harringto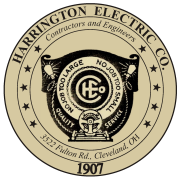 n.  In its early years Harrington performed electrical work for many churches, schools, and libraries throughout Greater Cleveland. The company started at 3522 Fulton Rd and later moved to the Caxton Building in downtown Cleveland.
1934
Mr. Harrington dies of a heart attack.  Mrs. Harrington sells the company to Mr. George P. Fuerst.
1956
Harrington Electric Co. is awarded the Cleveland Arena project – which was the home of the Cleveland Barons hockey team. The Arena was the site of the Moondog Coronation Ball where Cleveland disc-jockey Alan Freed coined the term Rock and Roll.  [left photo]

1956
Harrington is awarded a contract to wire 55 Public Square – otherwise known as the Illuminating Building – after the building's main tenant, the Illuminating Company.  The building was constructed on the site of Charles F. Brush's first arc lamp, which in 1879 was the world's first electric street light. The Illuminating Building was the first high-rise building in Cleveland following the Second World War.  [right]
1958
Mr. George P. Fuerst dies of a heart attack in the lobby of 55 Public Square near the time of its opening.  Mr. Fuerst's two sons in the business, George Jr. and Albert Fuerst assume leadership after their father's passing.
1971
James B. Morgan, an electrician who has worked for the company since 1959, purchases Harrington from the Fuerst brothers.

1976 – 78
Morgan's sons Jim Jr. and Tom join the company.  Thomas A. Morgan, PE is currently the company Owner and President.  The company currently resides at 3800 Perkins Ave. in Midtown Cleveland.
1978
Harrington performs the electrical construction of Beachwood Place Mall on a design-build basis for owner-developer, The Rausch Company and construction manager, The Lathrop Company. [right]
1980
Harrington completes the Cleveland Clinic Foundation Lab Medicine Building (L Building) work under construction manager Gilbane Building Company.
1985
Harrington performs electrical & technology work for The Federal Reserve Bank of Cleveland. The project included a new annex building and renovation of the existing building.  [left]
1991
Harrington wires a total of 30 floors for Key Bank (20 floors in their new Key Tower and 10 floors of renovation in the historic Annex Building). Harrington acts as subcontractor to the Albert M. Higley Company.  [Right]

1999
Harrington performs 4 of 8 total electrical contracts on the new Cleveland Browns Stadium.  [Left]
2000
Harrington completes a 2-year addition and renovation project of Severance Hall – Home of the Cleveland Orchestra.
2000
Harrington is honored with an exclusive invitation to join the Federated Electrical Contractors. FEC is a peer group of the most respected electrical contractors in the United States.
2007

Harrington celebrates 100 years in business with a Gala Anniversary party! Mayor Frank Jackson honors Harrington with his presence.
2016
Long-time leader Jim Morgan Sr. passes.
2017
Harrington hosts the annual national meeting of the Federated Electrical Contractors in Cleveland.