Harrington's NFPA 70B Training Helps Preserve Electrical Systems and Protect Workers
Harrington Electric professionals are fully trained in all NFPA guidelines, and are well-suited to review your electrical systems and provide maintenance services upon request.
Like it does with just about anything else on earth, time takes its toll on the electrical equipment and electrical systems that are often used in industrial plants, institutional and commercial buildings, and large multi-family residential complexes. Without proper monitoring and maintenance, these systems can gradually erode from constant wear and tear, and become a workplace hazard, potentially leaving the door open to a catastrophic accident or event.
To address this scenario, the National Fire Protection Association (NFPA) has recently released NFPA 70B, which offers "guidelines for maintaining electrical equipment, and details preventive maintenance for electrical, electronic and communication systems and equipment to prevent equipment failures and worker injuries."
The NFPA stresses that, to perform maintenance and safety checks on electrical equipment, maintenance personnel should be well trained and have a basic knowledge of its codes and guidelines.
The guidelines are useful for industrial and commercial electrical engineering and maintenance professionals, electrical maintenance supervisors, plant electricians, and field or plant personnel who may come in contact with electrical equipment.
According to the NFPA, "these specifications cover the suggested field tests and inspections that are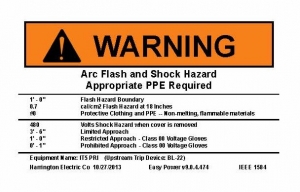 available to assess the suitability for continued service and reliability of electrical power distribution equipment and systems. The purpose of these specifications is to assure that tested electrical equipment and systems are operational and within applicable standards and manufacturer's tolerances and that the equipment and systems are suitable for continued service."
The guidelines address important topics such as troubleshooting electrical systems and choosing the proper preventive maintenance testing equipment and procedures, while covering proper maintenance intervals and procedures for electrical equipment and systems.
"The main objectives of NFPA 70B concerns business continuity and worker safety," commented Harrington Electric president, Tom Morgan. "On the safety side, it addresses a variety of scenarios, such as determining the arc-flash energy of the electrical system and equipment where a qualified maintenance person is exposed to electrical energized (live) conductors and components. Guidelines like these help provide the safest electrical system possible while maintaining a safe working environment for those performing necessary maintenance tasks."