Harrington Electric Co. Upgrades Electrical Distribution System for MetroHealth Parma Medical Center
Harrington Electric Co. is currently upgrading the 13.2kV electrical distribution system at MetroHealth Parma Medical Center (12301 Snow Rd.). The hospital is a level 3 trauma center, so safety and reliability of power are high priorities. Harrington Electric Co. is working under the leadership of Gilbane Building Company to install a new 13.2kV electrical distribution system designed by Osborn Engineering.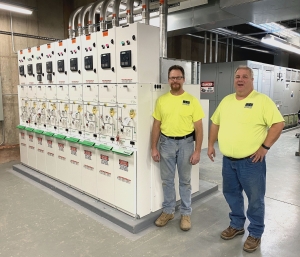 MetroHealth Parma Medical Center was originally constructed by Kaiser Permanente in 1966, and underwent eight significant building additions dating from 1969 to 1995.
As the building grew, the 13.2kV distribution system was modified to accommodate its expanding electrical loads. Over time, the safety and integrity of the system became a growing concern and MetroHealth decided to proactively replace the main switchgear and associated 15kV cabling.
The distribution system replacement requires operating on new equipment and the old equipment simultaneously through planned power cut-overs.
Space for the new 15kV switchgear within the main electrical room is a challenge, so a European-style Premset switchgear by Schneider Electric is being used.
Premset Switchgear is designed to IEC (International Electrotechnical Commission) standards, versus IEEE standards utilized in the U.S. The Premset IEC design features compact construction involving vacuum switches and 2SIS (Shielded Solid Insulation System). This results in a smaller footprint and ultra-safe switchgear insulation.
All 15kV cables at the facility are being replaced using General Cable copper wire (EPR insulation with a rugged CPE outer jacket) and Prysmian separable connectors.
Harrington electricians Richard Drumm and Dave Ross are leading our efforts through this complex, phased project. Richard has a mastery of switchgear assembly and rigid conduit and large cable replacement, while Dave focused on the 15kV terminations, splices, and switching operations.