Harrington Celebrates a 50-Year Friendship with The Poor Clares On Their 100th Anniversary
Harrington Electric Co. has maintained a special friendship for over 50 years with its community neighbors, The Poor Clares of Perpetual Adoration, and are celebrating alongside the Poor Clares Monastery as it marks its 100th Anniversary in 2021.
Harrington Electric extends a heartfelt congratulations to Mother Mary James and the Poor Clare Sisters on this historic centennial occasion, and is grateful for the Sisters' continuous prayers for the Cleveland community.
The monastery was established by Catholic Bishop Joseph Schrembs in 1921 to be a contemplative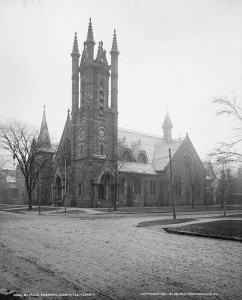 Franciscan Order of Catholic nuns "Praying for the needs of the City." In 1931, the Catholic Diocese purchased the existing Episcopal church – St. Paul Shrine – at East 40th and Euclid, renaming the church "The Conversion of St. Paul Shrine for the Perpetual Adoration of the Blessed Sacrament."
Since then, the monastery has been an oasis of prayer in Midtown Cleveland. Cloistered nuns live in the adjacent monastery and perform perpetual adoration of the blessed sacrament and prayers for the community 365 days a year, 24 hours a day.
Completed in 1876, the church hosted many socially prominent Clevelanders, and even U.S. President Theodore Roosevelt. The first service at the church was held on Christmas Eve of 1876.
Readers of this newsletter are most welcome to join the Sisters this Christmas Eve at 4:00pm or Christmas Day at 10:00am to celebrate Christmas for the 145th time! Christmas at this breathtakingly beautiful church is a peaceful and inspiring experience.
Harrington Electric Co. is very grateful for the prayers and support that the Poor Clares have provided over many years.